Vocational Training Centre for the Blind and Visually Handicapped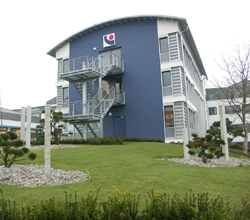 The Berufsförderungswerk Würzburg, a rehabilitation centre located in Veitshöchheim near Würzburg, is a nation-wide institution for the vocational rehabilitation of adult blind and visually impaired persons; it was founded in 1972. Vocational rehabilitation courses cover training and retraining for the adult blind and visually impaired, thereby preparing them for professional re-integration.
The associated members are the organizations of the civil and war blind of southern Germany and the edu-cational institutions for the blind in Würzburg, Nürnberg and Stuttgart.
The recently modernized teaching facilities specially designed for the needs of the blind and visually impaired offer rooms and equipment for 200 to 250 students in numerous classrooms and an industrial workshop.
Housing and Recreation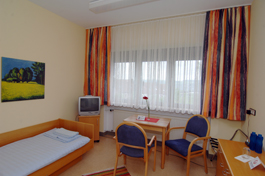 The living quarters can acommodate up to 200 residents in comfortable apartments. There are also various recreational facilities such as an indoor swimming-pool, fitness room, gymnasium, bowling alleys and an athletic field.
Help with personal problems is available by a team of social workers and psychologists, medical services are offered by doctors in Veitshöchheim and nearby Würzburg.
Integrated Rehabilitation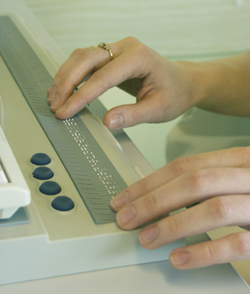 The Berufsförderungswerk Würzburg sees itself as a modern centre for social services offering numerous individual vocational trainings. During assessments students are introduced to suitable and appropriate vocations. Prevocational training consists of courses introducing new reading and writing skills such as Braille, typing etc., courses for orientation and mobility as well as daily living skills.
Professional trainings are offered for a wide range of qualified occu-pations in the commercial, administrative and service sector. Courses for industrial workers including the latest CNC-techniques are also available.
Individual training programs, especially providing the necessary skills in the field of electronic data processing, allow many students to return to their former professions.
After completion of the courses students may rely on the institution's support during applying for a suitable job. Employers as well are offered consultation in questions concerning the em-ployment of blind and visually impaired persons.
How you find us
Veitshöchheim is situated 7 km outside the city of Würzburg in Northern Bavaria. From Würzburg you follow the B27 in the direction of Fulda. The way to the BFW Würzburg is carefully signed.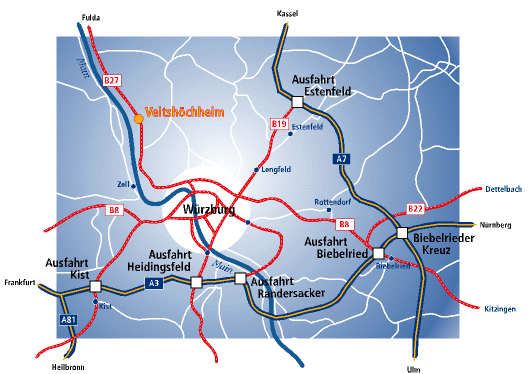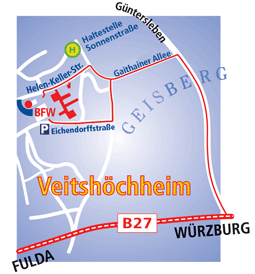 Arriving by train at Würzburg central station you take the local bus 11 or 19. Leave it at Veitshöchheim/Sonnenstraße and you will reach the BFW Würzburg after some hundred metres.


Berufsförderungswerk Würzburg gGmbH
Bildungszentrum für Blinde und Sehbehinderte
Helen-Keller-Str. 5
97209 Veitshöchheim
Phone: 0931 9001-0
Fax: 0931 9001-105
Mail: info@bfw-wuerzburg.de